75th Event
The Venue
Preliminary discussions for a Memorial Event to recognize the 75th anniversary of the shooting down of Lancaster ME449, to be held on 12 March 2020, began in June 2019.  The initial concept was for an indoor Reception in Tarm Kirkehus followed by an outdoor Ceremony at Englændergraven, the burial site of gunners Donald Morris and Harvey Porter.  Announcements were distributed in January 2020.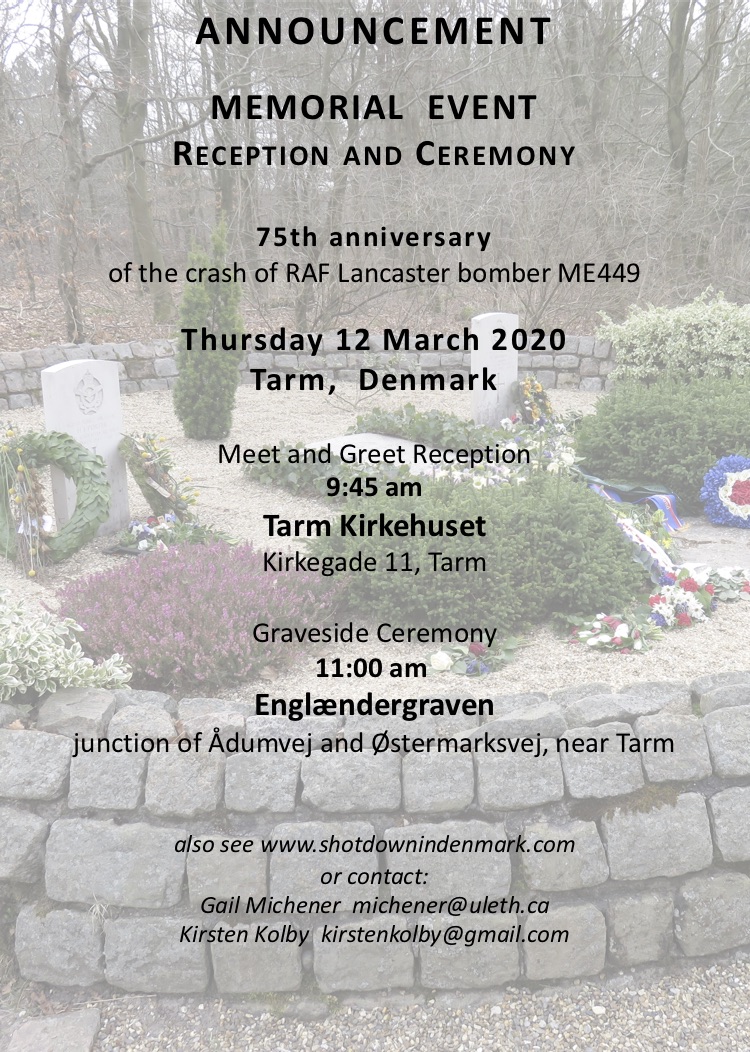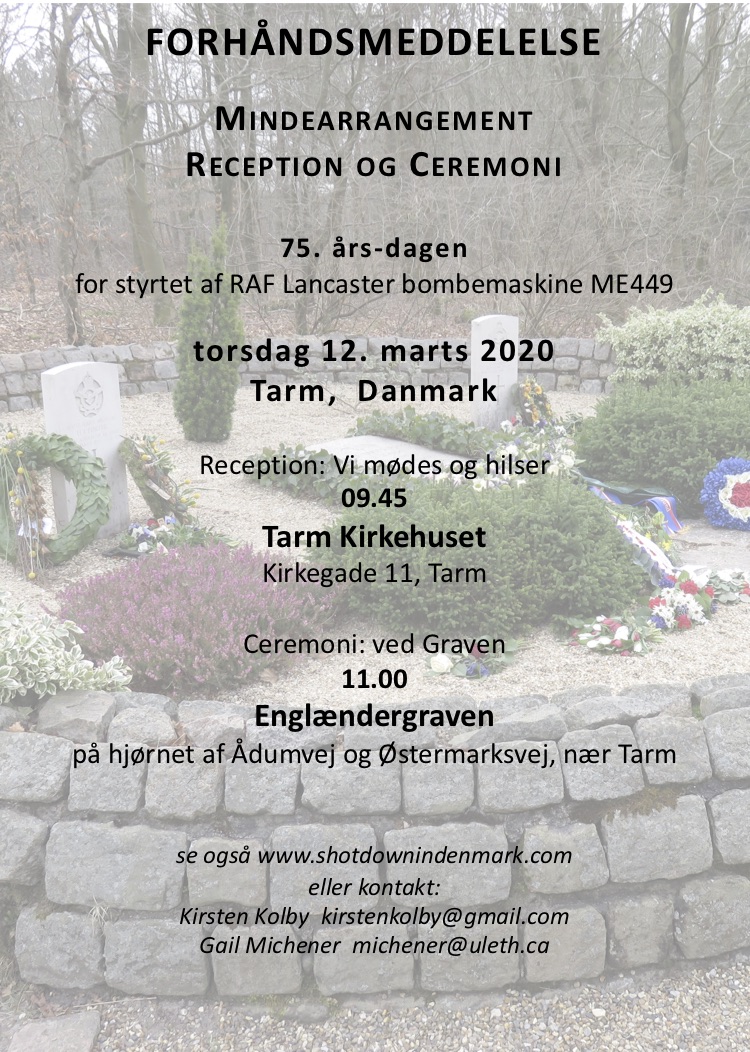 Despite the planning, various things changed.  A replacement MC was invited just days before the event, and the Tarm Kirke Parish Council decided on 10 March that an indoor reception was inappropriate in view of increasing reports of Covid-19 cases.  Consequently the Reception needed to be combined with the Ceremony, with both events held outdoors at Englændergraven.  But, the forecast was for periods of windy, wet weather necessitating some shelter at the gravesite. A team of enterprising helpers located a small event tent and erected it on 11 March.
On the morning of Thursday 12 March, the tent crew and additional helpers arrived early to secure the tent from wind and to raise flags at the grave site.  Other helpers brought refreshments from Kirkehus to the tent.  By 10:30 am we were ready to host a combined Reception and Ceremony at Englændergraven, starting with hot coffee and buttered rolls.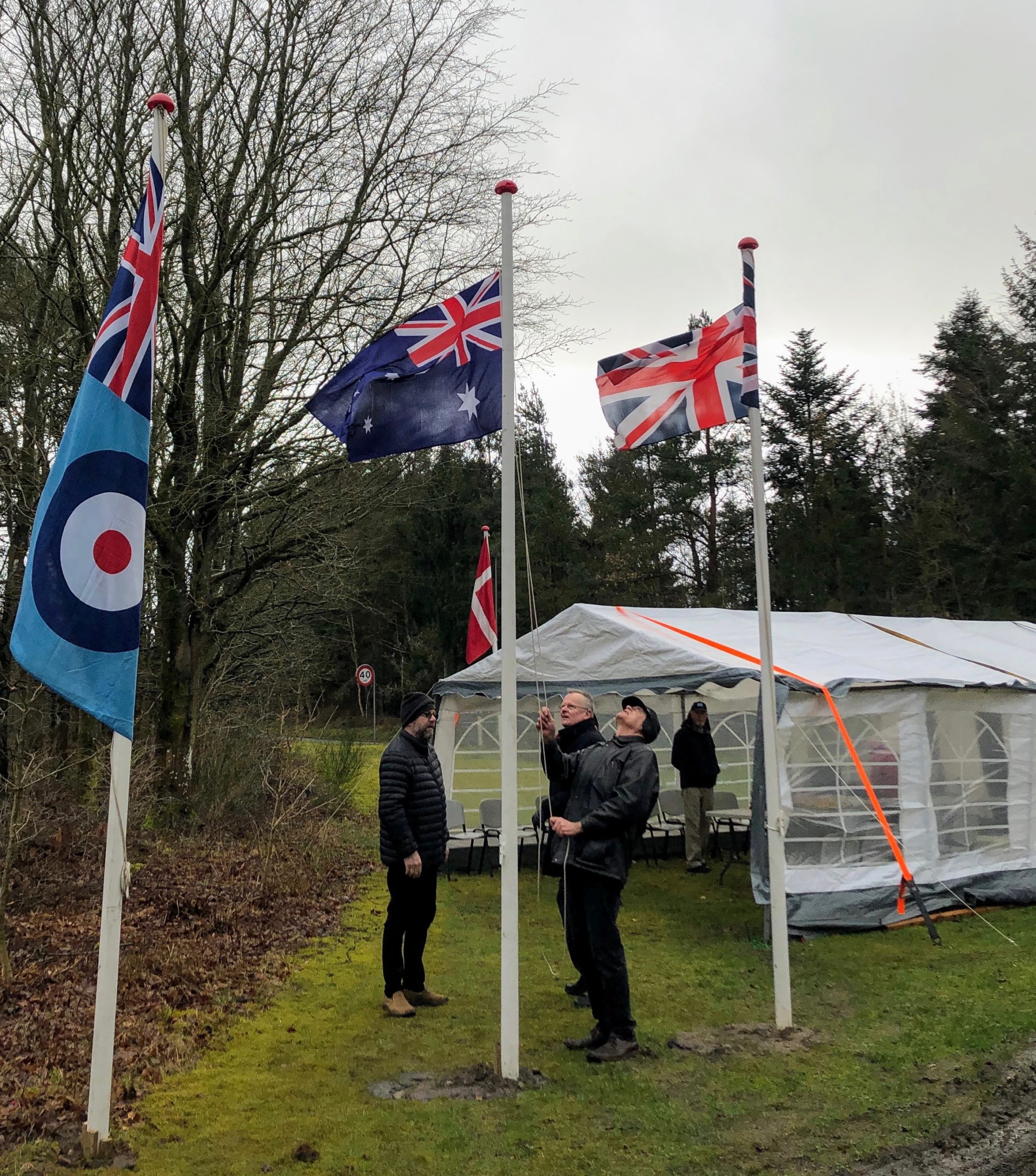 Raising flags of the Royal Air Force, Australia, Britain, and Denmark
Photograph by Lone Holme Bonde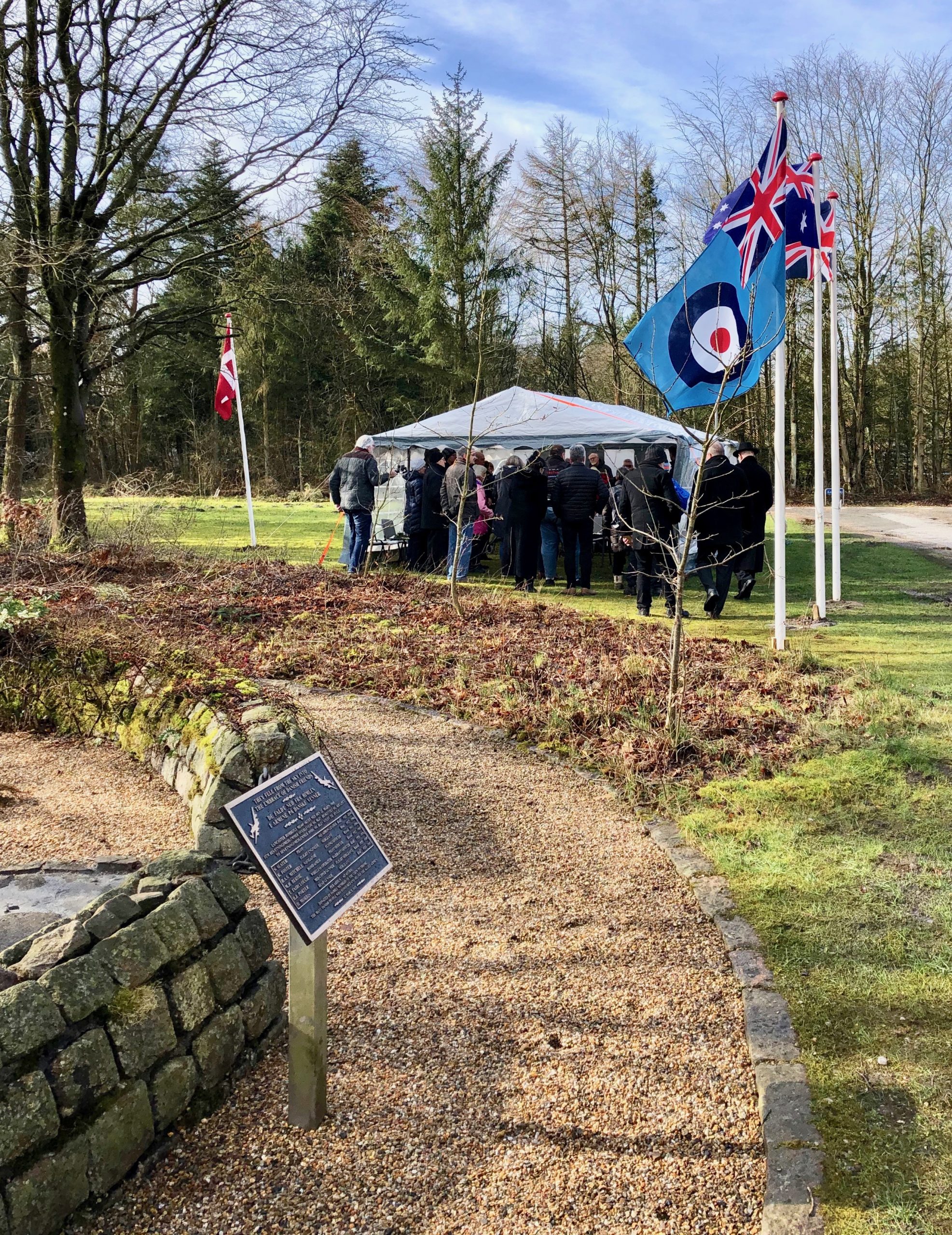 Reception tent at Englændergraven

Photograph by Aase Flensted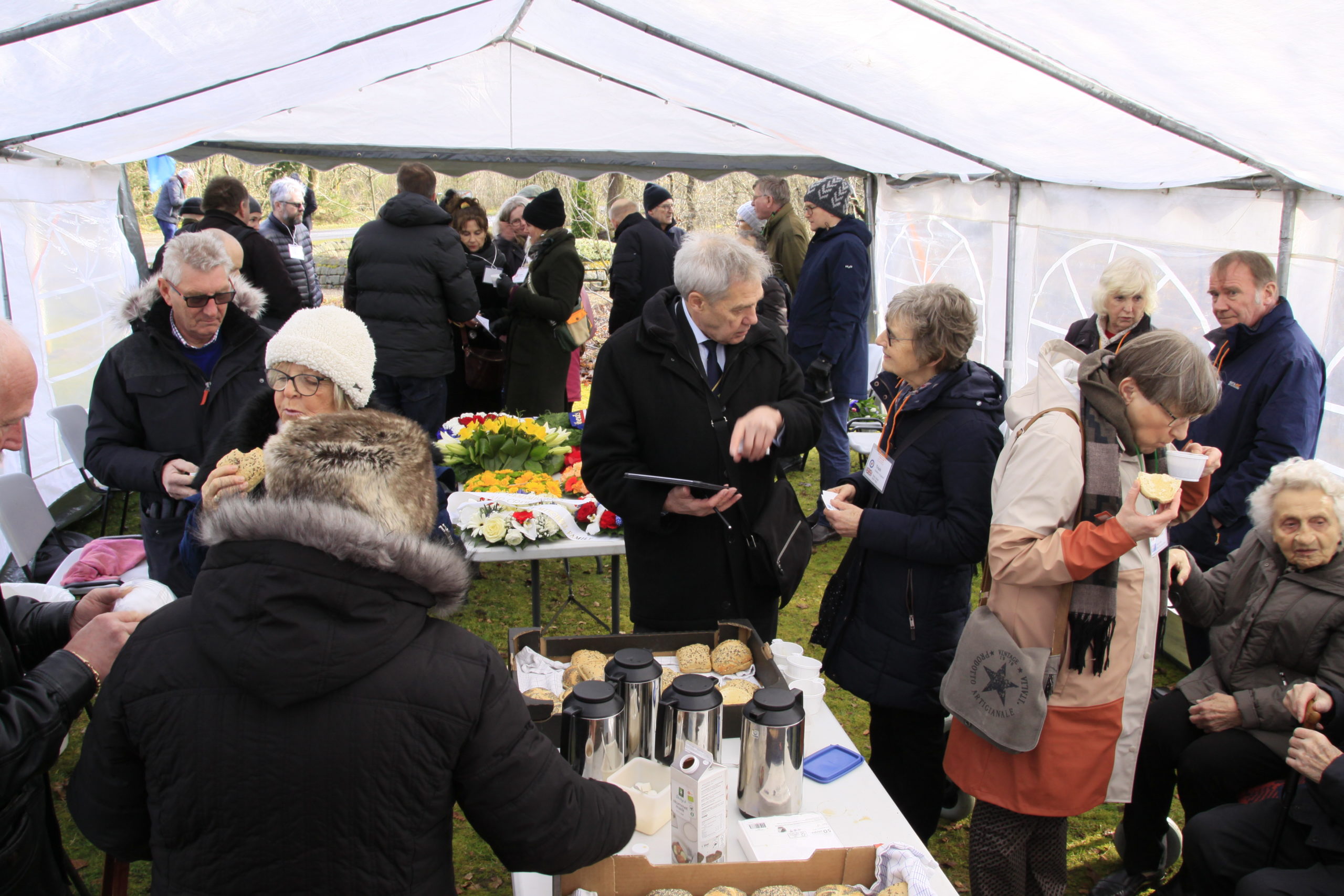 Despite changes in time and location, inclement weather, and health concerns, the Reception on Thursday 12 March 2020 at Englændergraven was attended by about 40 Danes and 12 family members and friends of the ME449 aircrew from England and Canada.
Photo by Anne Hoffmann
Ceremony Program

Short speeches by Master of Ceremonies Lone Holme Bonde opened and closed the event.  The main focus of the 75th anniversary Ceremony was the laying of wreaths to remember the three Australian and four English airmen aboard Lancaster ME449 and to thank the many Danes who recovered the bodies of the two gunners from the crash site and who helped the other five airmen evade the German occupiers.  After the wreath-laying, priest Birgitte Nør Jahn from Tarm Kirke led participants in prayer, followed by community singing of the Liberation song En læerke letted / A Lark Ascended and the Danish national anthem, led by MC Lone Bonde and Per Kasch.
View video of MC's Opening Speech, in English (text by Gail Michener) and Danish (translation by Lone Holme Bonde).  3 minutes 50 seconds.
View video of Prayers and Singing.  4 minutes 29 seconds.
Videography courtesy of Brian Larsen, Tarm (brianfratarm)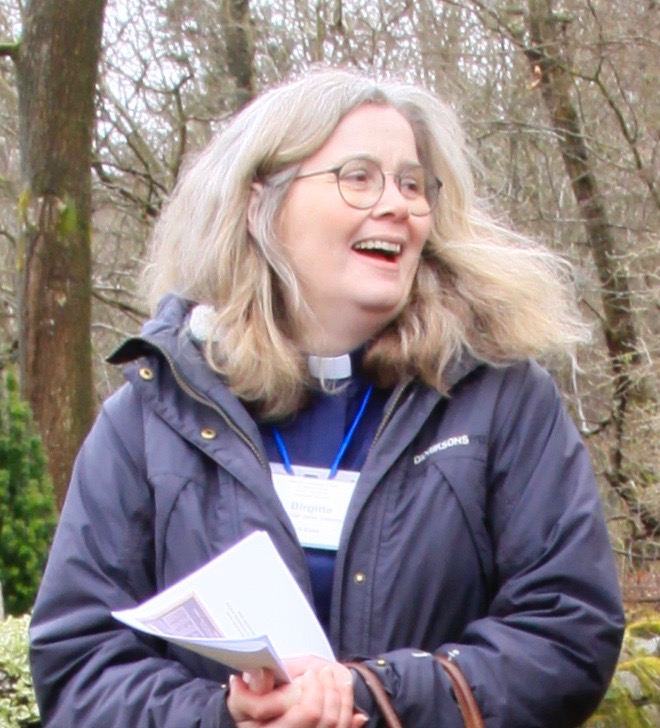 Tarm Kirke priest Birgitte Nør Jahn

Photograph by Anne Hoffmann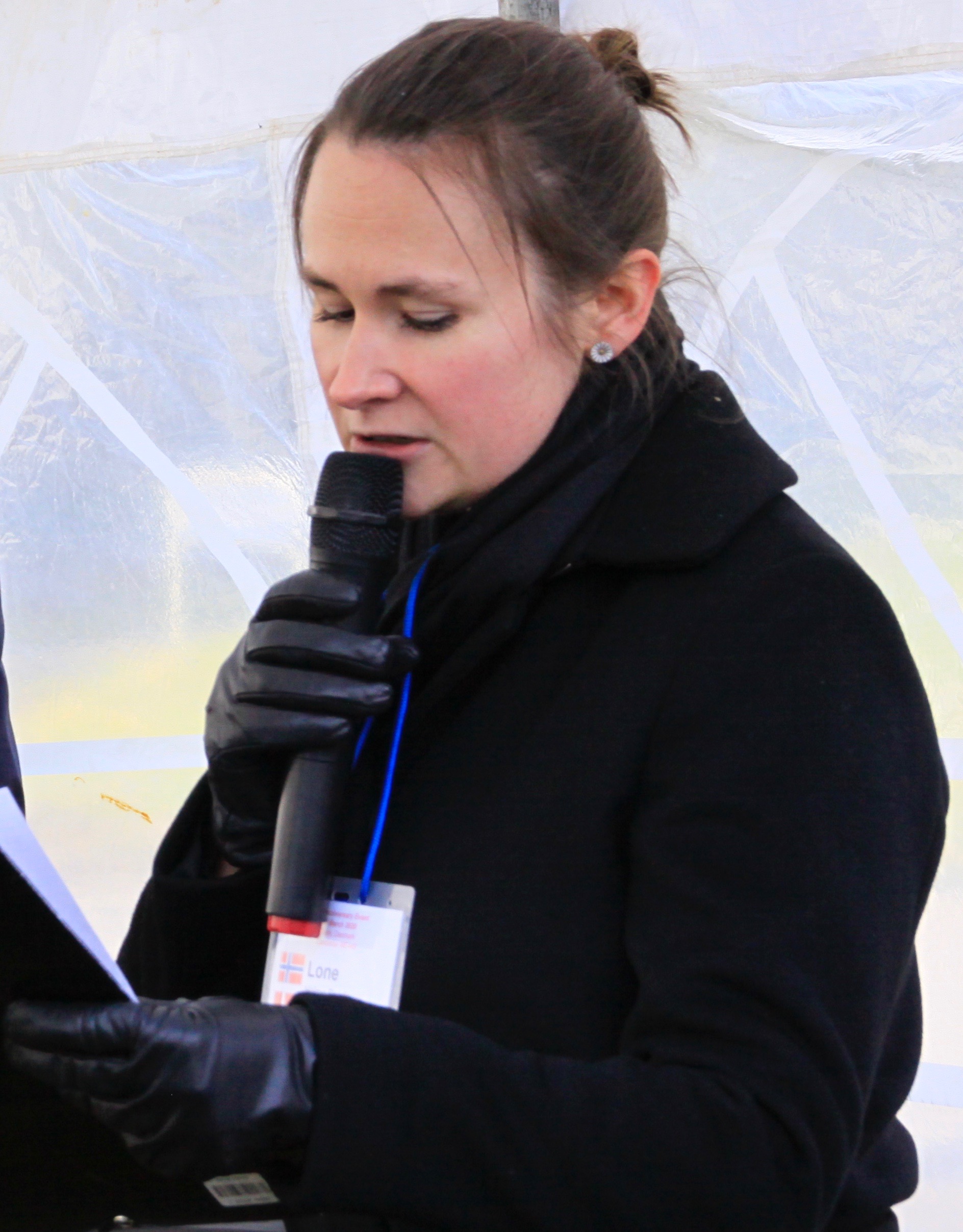 Master of Ceremonies Lone Holme Bonde

Photograph by Anne Hoffmann
Wreath-laying to Honour the Fallen
Anni Guldberg Madsen and Carl Christian Bøgebjerg laid a wreath at the Commonwealth War Graves Commission RAF headstone for Rear Gunner Donald Morris on behalf of Morris's niece Lynne Marsden and sister-in-law Jane Morris and all the members of the Morris family.
Karen Raunkjær and Finn Kjeld Hansen laid a wreath at the Commonwealth War Graves Commission RAAF headstone for Mid-Upper Gunner Harvey Porter on behalf of Porter's cousins Karen Rice and Fay Anlezark and all the members of the Porter family.
Wreath-laying in memory of the Evaders and Danish helpers
Five of the aircrew aboard Lancaster ME449 on the evening of 12 March 1945 survived the attack by the Junkers 88 night fighter and bailed out, each landing at a separate location.  By luck and with the courageous assistance of many Danish civilians and Resistance members, all five reached Sweden and finally Britain by early April 1945.  Two of the evaders, Navigator Stoney Mitchell and Bomb Aimer Merv Bertie, were members of the Royal Australian Air Force.  The other three, Pilot Stan Slater, Wireless Operator Thomas Fairclough, and Flight Engineer Ken Foster, flew with the Royal Air Force.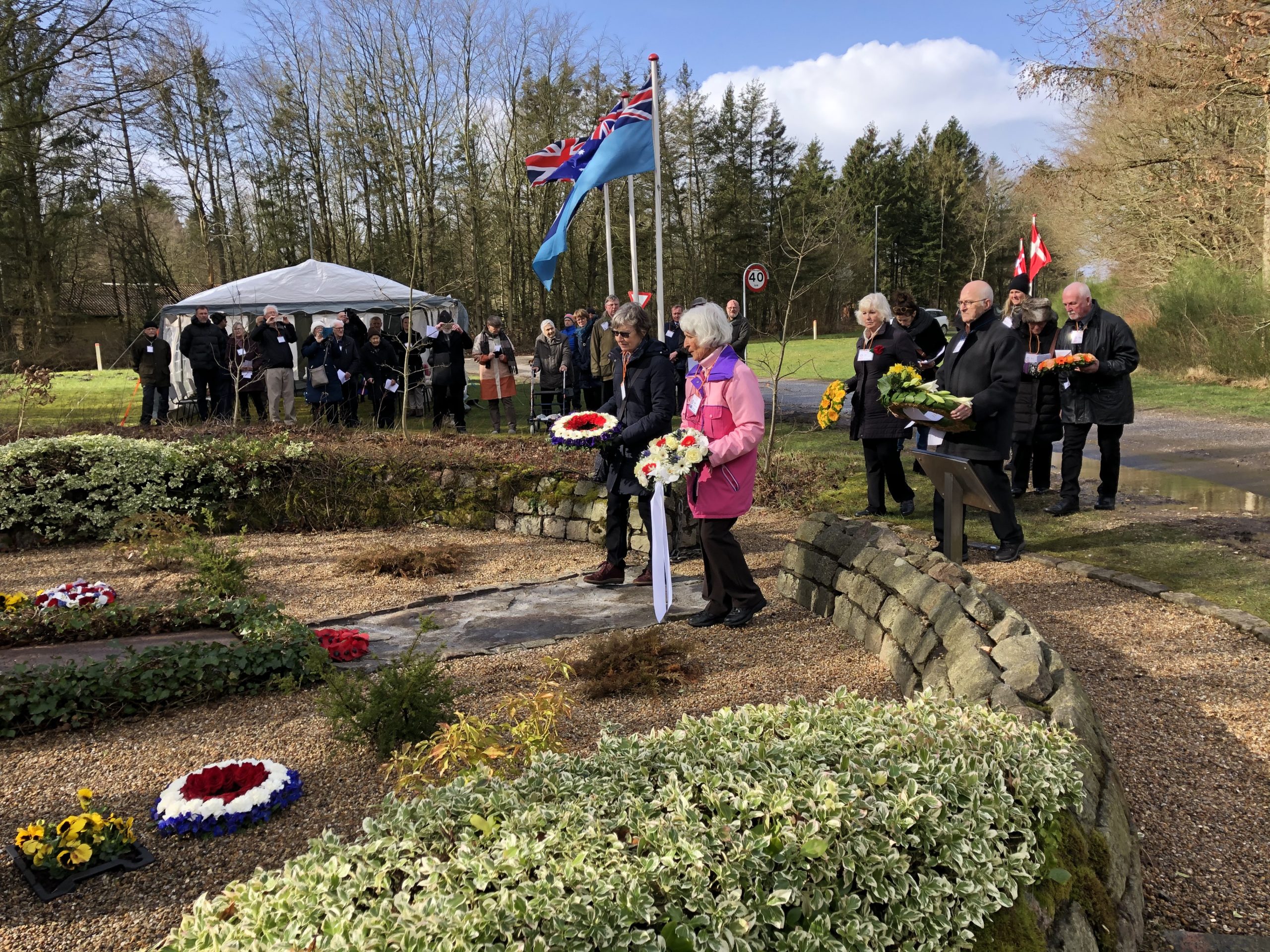 Representatives of the five airmen who survived and evaded
Trish Haddon, daughter of Pilot Stan Slater
Gail Michener, daughter of Navigator Stoney Mitchell
Val Mercer, daughter of Flight Engineer Ken Foster
Svend Erik Kaa, representing family of Bomb Aimer Merv Bertie
Nina and Nigel Fairclough, daughter-in-law and son of Wireless Operator Thomas Fairclough
Photograph by Aase Flensted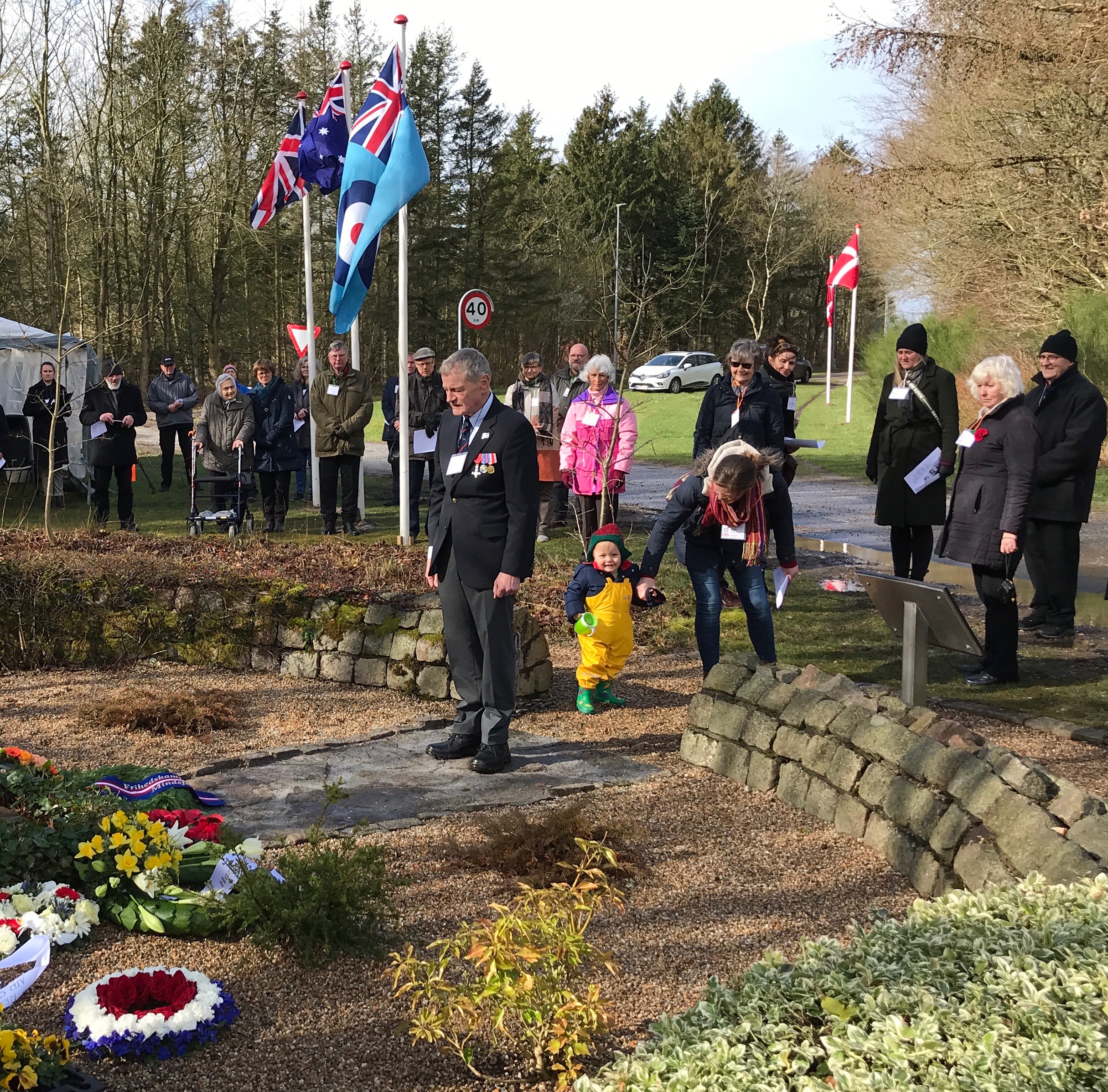 Wreath at centre stone laid by Ole Rønnest
on behalf of Frihedskampens Mindefond to acknowledge the Danish helpers
Observed by the youngest attendee, 2-year-old Dylan, great grandson of Pilot Stan Slater
Photograph by Søren Flensted
Family Members of Allied aircrew and Danish helpers attending the 75th Memorial Event.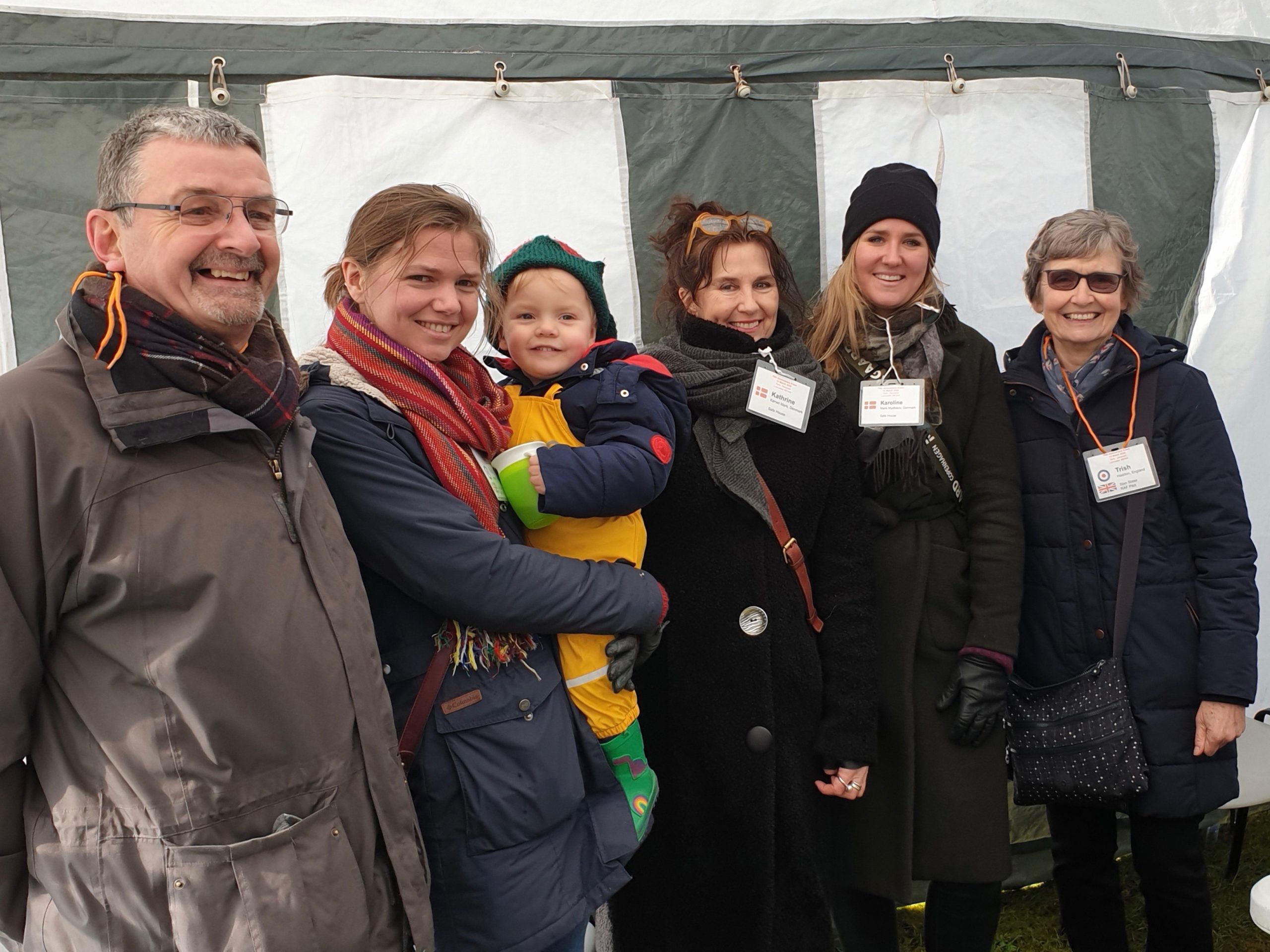 Families of
RAF Pilot Squadron Leader Stan Slater
and
Resistance member and safe house owners Frederik and Kathrine Kørvel
Left to right
Peter Slater (son); Ruth and Dylan Rogers (granddaughter and great grandson)
Kathrine Mydtskov and Karoline Mydtskov (granddaughter and great granddaughter)
Trish Haddon (daughter)
Photograph by Karen Raunkjær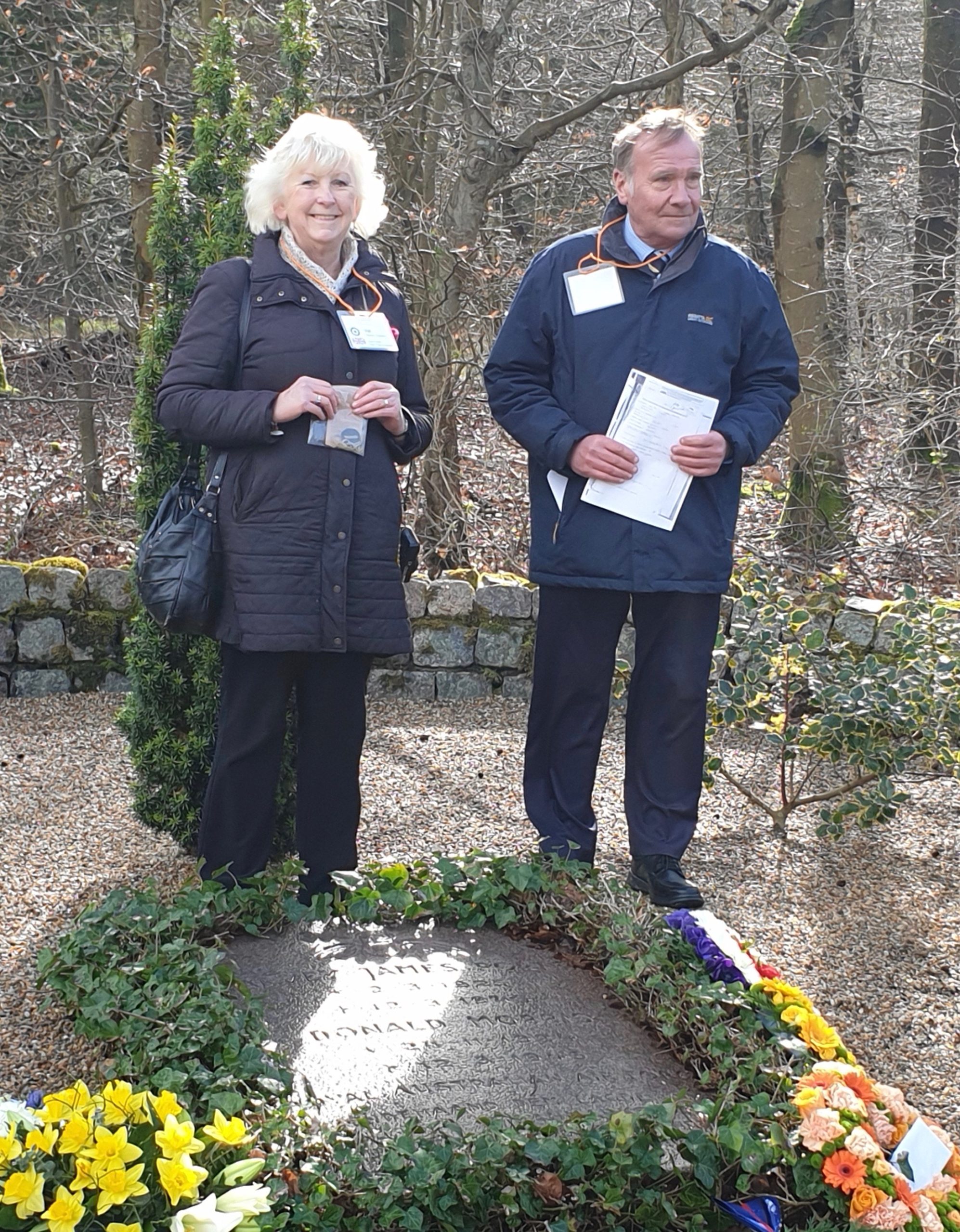 Val and Pete Mercer

daughter and son-in-law of
RAF Flight Engineer Ken Foster
Photograph by Karen Raunkjær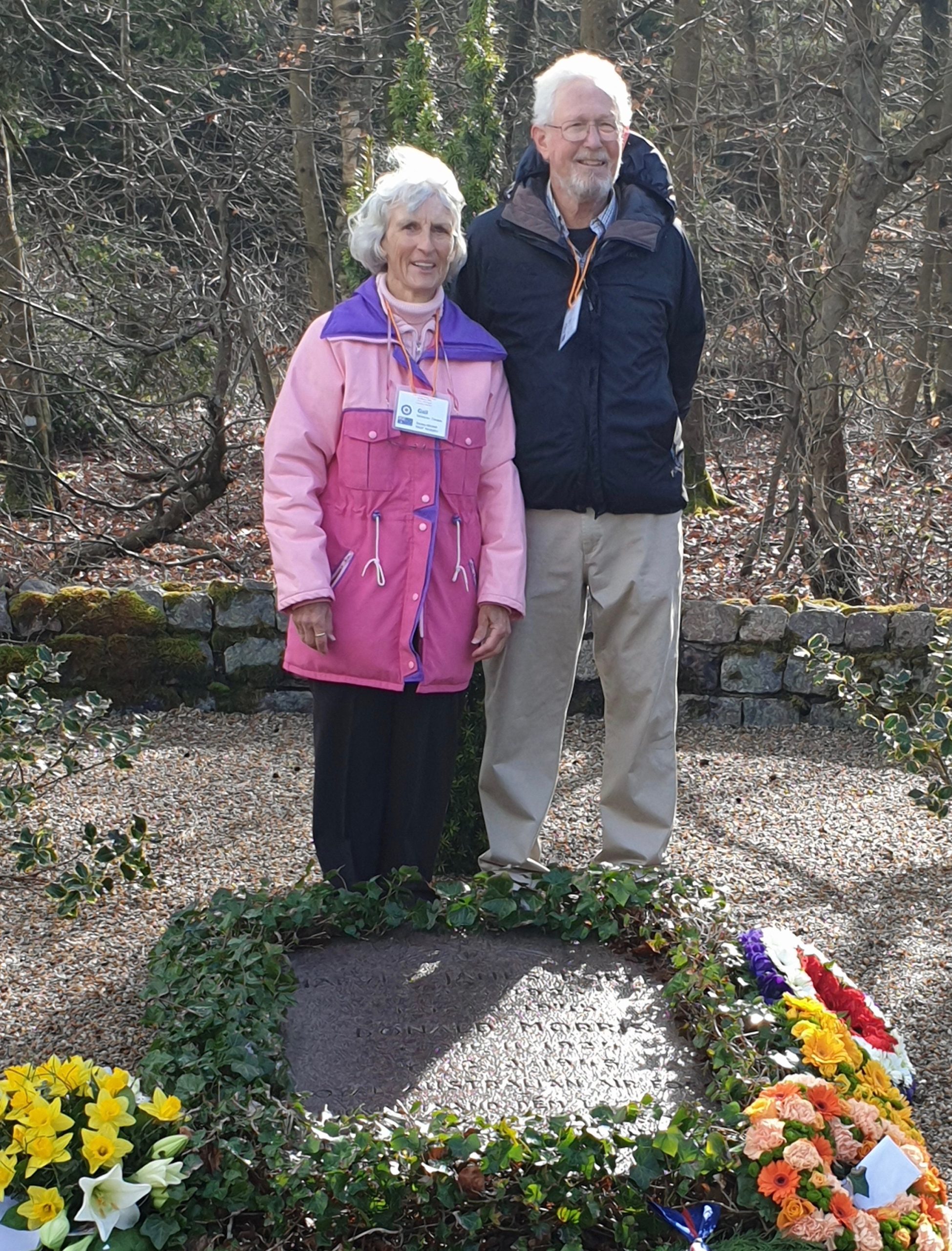 Gail and Dan Michener

daughter and son-in-law of
RAAF Navigator Stoney Mitchell
Photograph by Karen Raunkjær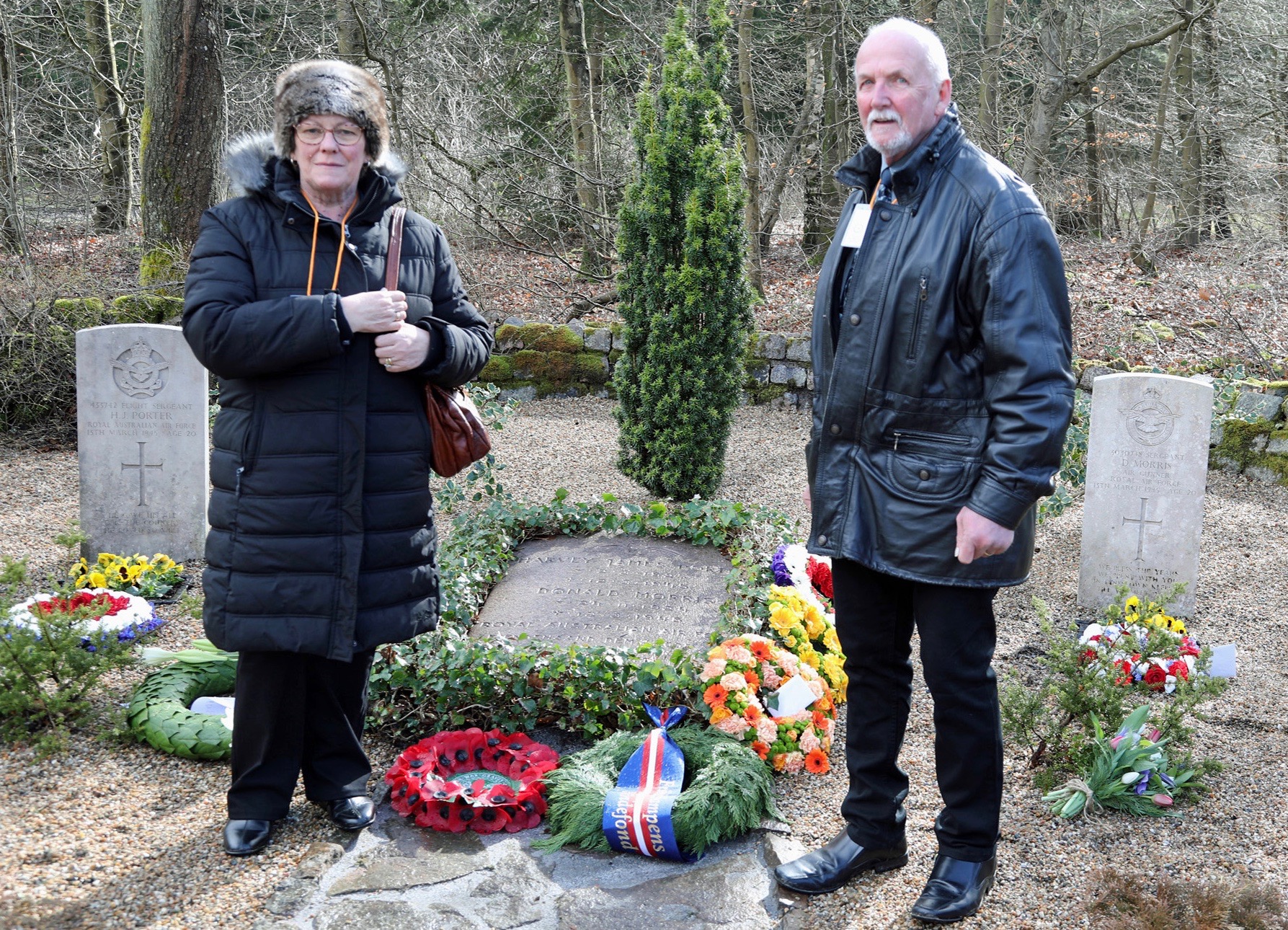 Nina and Nigel Fairclough
daughter-in-law and son of Wireless Operator Thomas Fairclough
Photograph by Brian Larsen

For aircrew family photographs from the 2015 Memorial Event, see 70th Crew Families 
For the history of the grave site, see  Englændergraven
75th Memorial Event Committee and Assistants
Gail Michener, Convenor, is indebted to the many people whose generous and outstanding help ensured that the 75th Memorial Event took place despite the complications of changed venues and times, increasing concerns related to the ongoing Covid-19 pandemic, and extremely variable weather that included wind, rain, sleet, and – just when it was needed for the wreath-laying – sunshine.
The committee was composed of Kirsten Kolby (Tarm), Gail Michener (Canada), Per Bonde (Tarm), and Søren Flensted (Billund), with extensive help from Birthe Holme Kasch (Tarm) and Anni Guldberg Madsen (Brønderslev).  Lone Holme Bonde (Oslo) kindly agreed to MC the Ceremony in both English and Danish, and priest Birgitte Nør Jahn (Tarm) officiated.  The team installing the event tent and flags included Per Bonde, Dan Michener (Canada), Per Kasch (Tarm), Jens Erik Madsen (Brønderslev), and Henrik Aas (Oslo).  The Mercer and Slater families from Britain assisted the team with dismantling the tent.  Anni Guldberg Madsen assisted with translation, printing programs, organizing wreaths, delivering coffee and rolls, transporting visitors, and many other tasks.  Birthe Kasch contacted media and the videographer, solved the last-minute need for a replacement MC, and provided frokost for committee meetings.  Per Kasch assisted with translation.  Karen Raunkjær (Videbæk), Finn Kjeld Madsen (Herning), Carl Christian Bøgebjerg (Videbæk), Anni Madsen, and Svend Erik Kaa (Herning) generously represented the Porter, Morris, and Bertie families, organizing wreaths and laying them on the families' behalf at Englændergraven.  Helle Bonde and Per Bonde hosted an excellent luncheon (with a fabulous carrot cake) at their home for the visiting aircrew families and local Danes connected to the history of the fate of Lancaster ME449.  Many people shared photographs; names of photographers are given with each image used on the 75th event web page.