Memorial Events
What is being commemorated: a brief history

On the evening of 12 March 1945, Lancaster bomber ME449 from RAF 103 Squadron was tasked with dropping mines near the northern entrance of The Sound, between Denmark and Sweden, to disrupt German shipping repatriating military personnel and equipment from Norway to Germany.
As Lancaster ME449 returned westward over Jutland, it was attacked by a German nightfighter.  The bomber crashed down in farm land near Lyne, with the two gunners – Rear Gunner RAF Sergeant Donald Morris and Mid-Upper Gunner Flight Sergeant RAAF Harvey Porter – still aboard.  Very soon local Danes rushed to the crash site, pulled the bodies from the wreckage, and took them to Tarm hospital where they were washed and dressed by nursing staff.
Next day the German occupiers ordered hospital staff to load Morris and Porter into a cart to be buried in a plantation on the south-eastern edge of Tarm.  Here they were placed together in an unmarked common grave. Soon after the Liberation of Denmark on 5 May 1945, people who secretly knew the location of the burial site dignified it with flags and flowers.
By August 1945 the gravesite looked much as it does today, with a low stone wall surrounding the burial site and a large inscribed memorial stone lying within the encircling wall.
Later the Commonwealth War Graves Commission erected a headstone for each airman, with the insignia appropriate to the air force for which he flew, the Royal Air Force for Morris and the Royal Australian Air Force for Porter.  At the wishes of both sets of parents, the bodies were undisturbed and they remain together permanently. Over time the site became known as Englændergraven.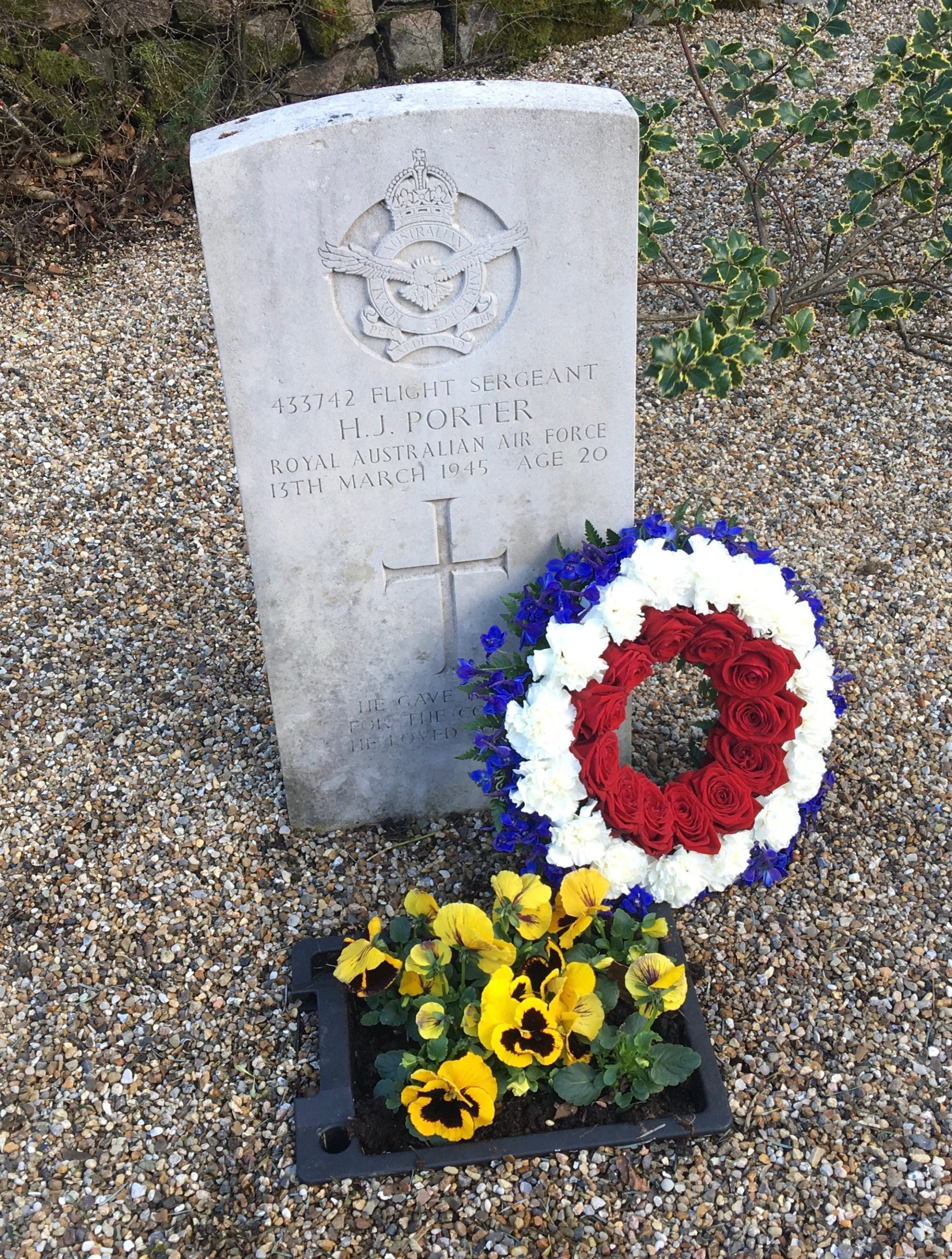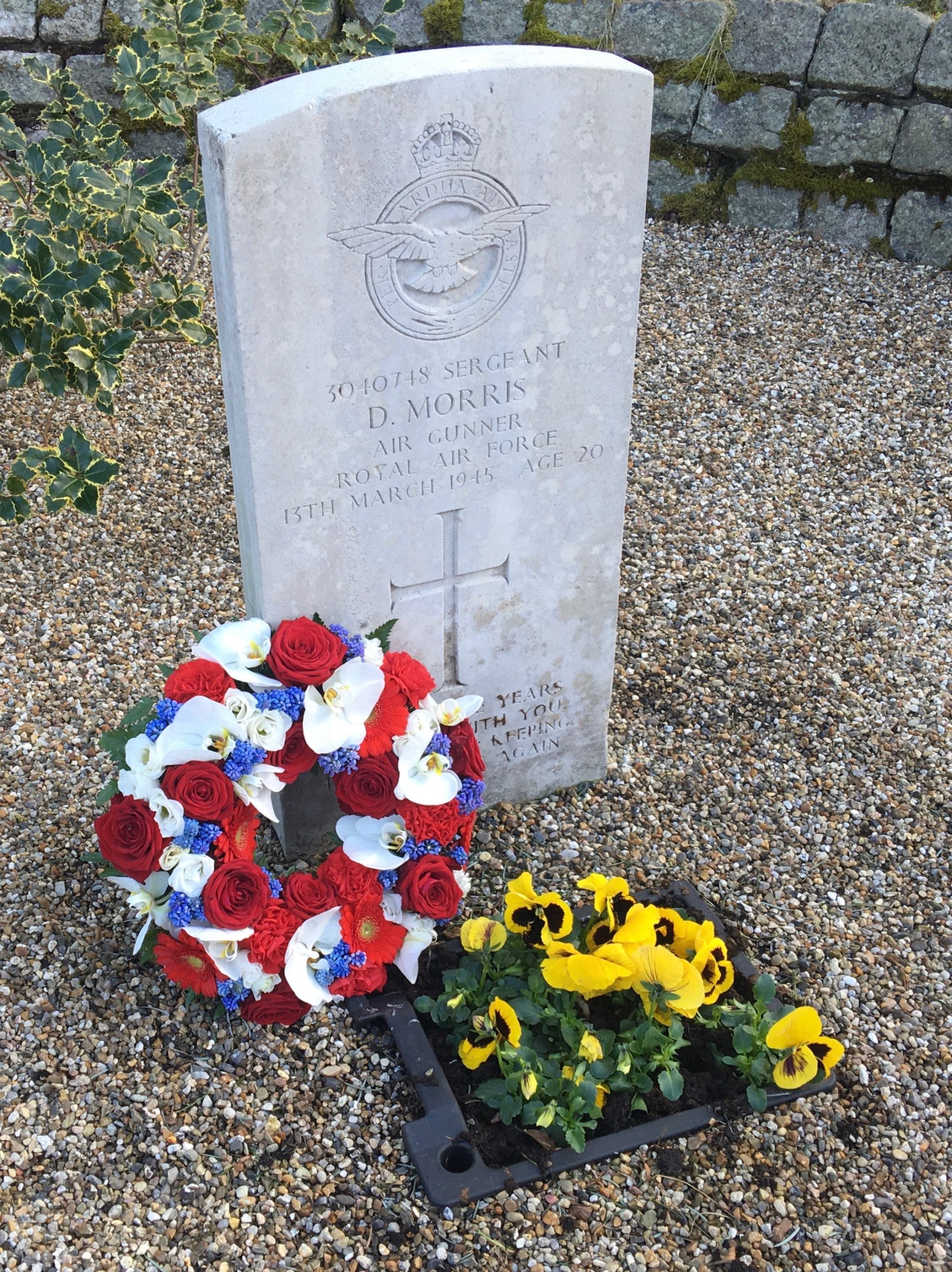 Commonwealth War Graves Commission headstones for
Harvey Porter   and   Donald Morris
at Englændergraven.
Photographs by Gail Michener, 12 March 2020
See Englændergraven for more on the history of the burial site.
Five other airmen were aboard Lancaster ME449 on 12 March 1945: Pilot RAF Squadron Leader Stan Slater, Bomb Aimer RAAF Pilot Officer Merv Bertie, Flight Engineer RAF Sergeant Ken Foster, Navigator RAAF Flying Officer Stoney Mitchell, and Wireless Operator RAF Warrant Officer Thomas Fairclough.  They jumped out with parachutes and over the next 3 weeks were hidden by many brave Danish people, both civilians and Resistance members, before eventually reaching Sweden and finally England.  See Eye Witnesses and Helpers for information on Danes who assisted Mitchell and Bertie.
Memorial events honour the two gunners who died, remember all the crew, and recognize the assistance of Danish civilians and Resistance members in retrieving the two bodies and helping the five surviving crewmen to evade to safety.
Recent Memorial Events:
12 March 2020 to recognize the 75th anniversary of the attack on ME449
See 75th Event for details and photographs.
12 March 2015 to recognize the 70th anniversary of the attack on ME449
See 70th Event,  70th Ceremony,  70th Speeches,  70th Crew Families,  70th Committee