Dorthea Kristensen 13 March 1924 – 2 July 2016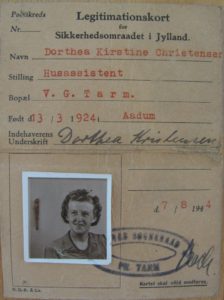 Official identity card of Dorthea Kristensen.
Note the spelling error in Dorthea's surname in the typed entry compared with her signature.
Original document in Dorthea Madsen's private collection photographed by Gail R. Michener 14 June 2011.

Dorthea Kristensen was the first person to make contact with Stoney Mitchell and Merv Bertie, and her friendliness and helpfulness no doubt gave the two Australian airmen the confidence to continue their evasion across Jutland with the knowledge that they had a high probability of receiving assistance from Danish civilians.
On the night of 12 March 1945, Dorthea Kristensen was in Tarm, where she worked as a house maid at the local high school Vestjylland Gymnasium Tarm (VGT). She heard Allied air activity overhead and saw the distant flames of the damaged aircraft that eventually crashed in a farm field 8.5 km due south of Tarm. The next day Dorthea took a local bus to her family home 7.5 km south-east of Tarm to spend her 21st birthday with her parents. A neighbour stopped at the Kristensens' farm after lunch to report that she had seen two men who looked liked English airmen walking along the road towards Tarm. Knowing that Germans were stationed in Tarm, Dorthea took her father's bicycle and caught up with Bertie and Mitchell to warn them that they should not continue in that direction. With signals and hand gestures, she showed them where to go and indicated that they would find food and rest there.
At 2:30 pm Mitchell and Bertie arrived at the Kristensens' home where they washed up, ate, obtained some cigarettes with the 50 Kr from the escape purse, then went up to the loft to rest. Before returning to Tarm on the 6:30 pm coach, Dorthea went upstairs to say farewell and was profusely thanked by the two men.
Dorthea Kristensen had no further contact with Bertie and Mitchell and they seem not to have known of a way to contact her. On 3 February 1946 Dorthea submitted a helper report to the Allied authorities and in August that year she received Level V helper award certificates.
In their MI9 debriefing report made in May 1945, Mitchell and Bertie describe receiving assistance from a "small girl on a bicycle", and 32 years later Merv Bertie described her as "a girl of about 16 yrs" in his memoir "Experiences in Denmark". Local historian Børge Rasmussen, the retired language teacher from VGT, who extensively researched the crash of ME449 in 1977 was not able to find the identity of the "girl on a bicycle", in part because he assumed she had been of high-school age in 1945 and likely spoke English. He was never to know that the mysterious "girl" was 21 years old and a member of the domestic staff in his own school at the time.
The identity of Mitchell and Bertie's first helper became known in 1985 when she attended a reunion of veterans of the RAF Escaping Society and the Danish Landsforeningen Frihedskampens in Esbjerg on 1 September 1985. The next day a photograph appeared in the newspaper Vestkysten showing Dorthea Kristensen, by then Fra Madsen, holding gauntlets given to her family by Australian evaders. That photograph was seen by Ole Kraul who had a long-time interest researching the histories of Allied escapers and evaders in Denmark. Kraul contacted Madsen, and they eventually met in person following the 1989 ANZAC day commemoration at the Tarm grave.
Ole Kraul wrote to Merv Bertie to let him know that he had found the "small girl" who helped him and Mitchell, but Bertie had died in 1987 and the letter eventually reached his daughter Sue Westcott in September 1989. In January 2011 Gail Michener, daughter of Stoney Mitchell, obtained Kraul's information about the identity of Dorthea Madsen from Sue Westcott and subsequently the two daughters arranged to meet with Dorthea Madsen in Denmark in June 2011.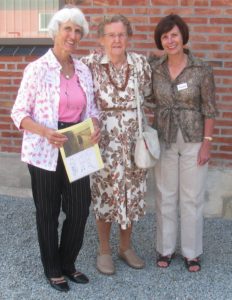 Gail Michener (nee Mitchell), Dorthea Madsen (nee Kristensen), Sue Westcott (nee Bertie).
On 12 June 2011, Gail and Sue had their first opportunity to thank Dorthea in person for her role as the first Danish person to offer assistance and protection to their fathers Stoney Mitchell and Merv Bertie.
Sources: Dorthe Kristensen's hand-written draft of her helper report in the private collection of Ole Kraul, Horsens, now in the private collection of Gail R. Michener. TNA War 208/5464
Kr. Peder Kristensen 27 July 1894-18 March 1976 Maria Kristensen 30 April 1898-22 November 1989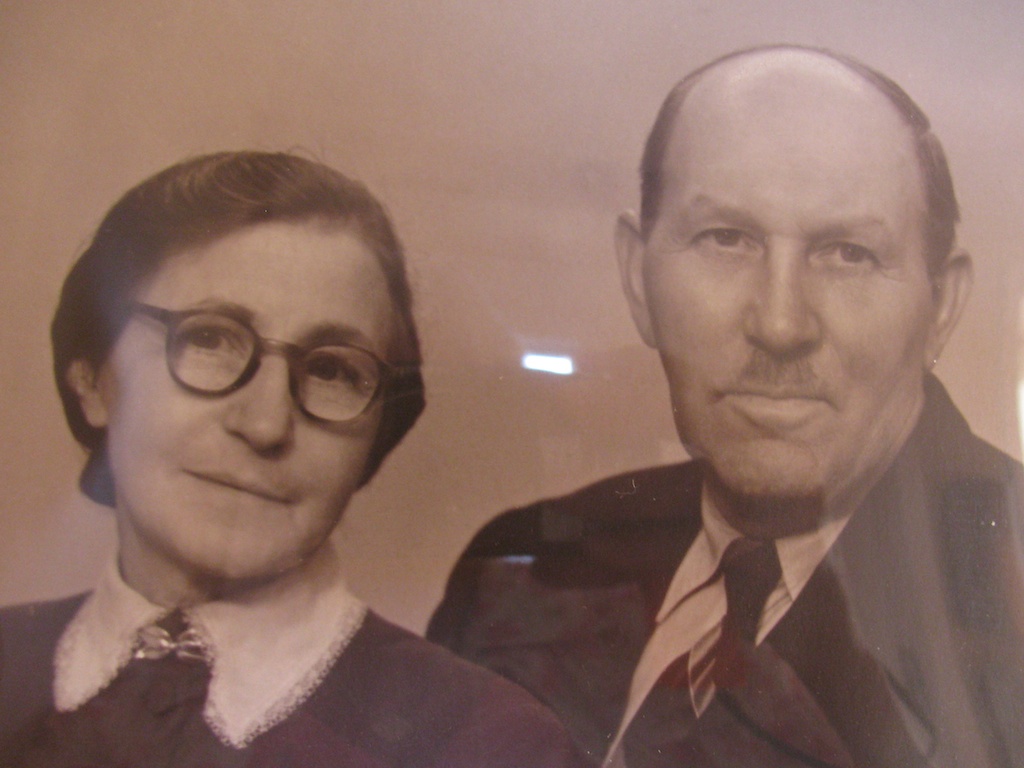 Maria Kristensen and Kr. Peder Kristensen.
Original photograph in personal collection of Dorthea Madsen (nee Kristensen) photographed by Gail R. Michener 12 June 2011.

By providing sleeping quarters in the loft of their house for the night of 13/14 March 1945, Peder and Maria Kristensen were the first Danes to provide a safe place for Mitchell and Bertie to rest and to spend the night. After Dorthea said her farewells to the two Australians, her parents had them come down from the loft for coffee. The Kristensens did not know who were members of the local Tarm Resistance group and they had no mens' clothing to spare, but they could offer advice on how to proceed the next day. They recommended that Mitchell and Bertie start their journey on 14 March 1945 by heading north on Bundsgårdvej, the minor road running past their house, rather than walking on Vejlevej, the main road heading north-west to Tarm. They also advised the two Australians to avoid entering towns and not use train transportation.
After the war, Dorthea Kristensen learned that her parents had hidden another pair of airmen a few days before they protected Mitchell and Bertie. From records of crashes in the area, these first two airmen are presumed to be RAF Wireless Operator F/S G. M. Maude and RAF Rear Gunner Sgt. J. H. Bloomer from Stirling LJ999 which crashed in shallow water at the southern end of Ringkøbing Fjord in the early hours of 5 March 1945. They were subsequently arrested on 8 March by German soldiers in Herning on leaving a grocery store.
Aage Fisker 19 December 1895-13 September 1960 Ottine Fisker 9 June 1900-1 September 1976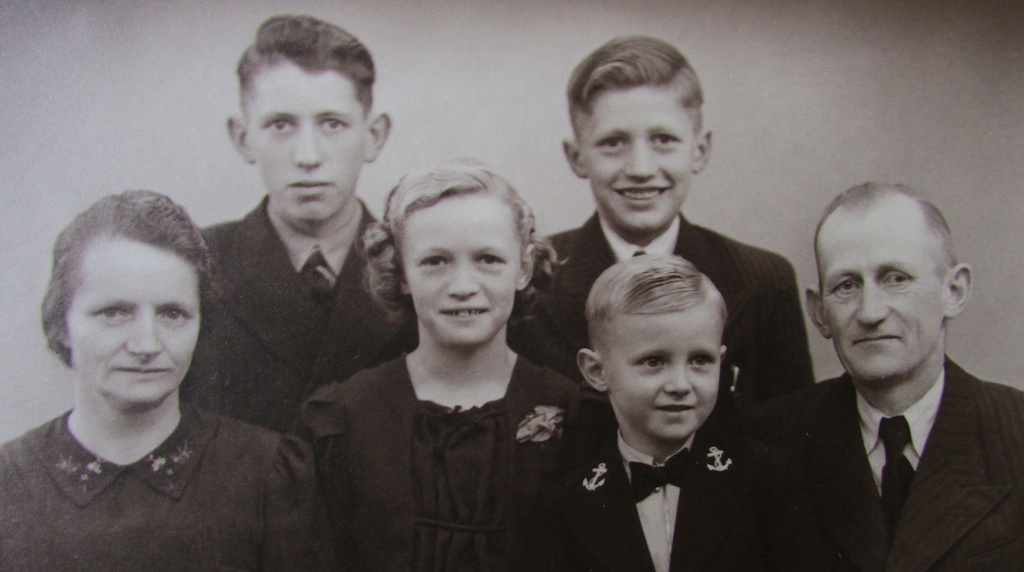 Fisker family in early 1940s.
Back row from left: sons Søren and Poul.
Front row from left: Ottine Fisker, daughter Lis and son Børge, Aage Fisker.
Original photograph in private collection of Fisker family photographed by Gail Michener 16 June 2013.

On the advice of people at a nearby farm, Stoney Mitchell and Merv Bertie approached the farm of Aage and Ottine Fisker near sundown on 16 March 1945. The advice paid off. Not only did the Fiskers offer them food and shelter, but they had contacts with Resistance members. On reaching the Fiskers' farm just south of Funder, Mitchell and Bertie had covered a straight-line distance of about 65 km since baling out; undoubtedly they had walked a much greater distance than that over the 4 days since parachuting out of the flaming Lancaster. From now on, transportation would be arranged for the two Australians. Mitchell and Bertie had dinner with the Fiskers and their three youngest children Poul (18 years), Lis (16 years), and Børge (8 years). Later in the evening Aage Fisker arranged for his cousin Mailor Ambrosiussen and Resistance member Peder Nørby Christensen, both of whom spoke English, to meet the two Australians. Mitchell and Bertie then spent the night sleeping in the hay loft of the barn. Although the Fiskers' oldest son Søren (top left in the above photograph) was not at the family farm the night of 16/17 March and did not meet the two Australians, he was a vital piece of the evasion story because he was aware that his employers, brothers Gunnar Birk and Sigurd Birk, were Resistance members who hid weapons on their farm Frisenborg on the south side of Ikast. Additionally, Aage Fisker had previously known the Birk brothers' mother, so he was confident about contacting the brothers with the news that he has two Allied airmen at his farm. In 1946 Aage Fisker received Grade V helper certificates from the British and American governments. After 6 months of unsuccessfully searching for the whereabouts of descendants of Aage and Ottine Fisker in 2011, Gail Michener feared she would never make contact with the Danish family that had been instrumental in connecting Mitchell and Bertie with the Danish Resistance. Then serendipity intervened. In August 2011 the three grand-daughters of Aage and Ottinne Fisker decided, as part of celebrations for their father's 85th birthday, to take Poul to visit the former family farm, which had been sold in the 1950s. The Fisker family learned from the current owner that a Canadian couple had been to the farm near Funder in June 2011. Through a web search in November 2011, grand-daughter Kirsten Meltesen made contact with Gail Michener, completing another link in the evasion route. Gail Michener visited Poul Fisker at his home in Vojens in 2012, and several subsequent years, thus meeting another civilian who had personal contact with Mitchell and Bertie during their 1945 evasion. Additionally, the Micheners met Søren Fisker's widow Edel and the other members of Poul Fisker's family.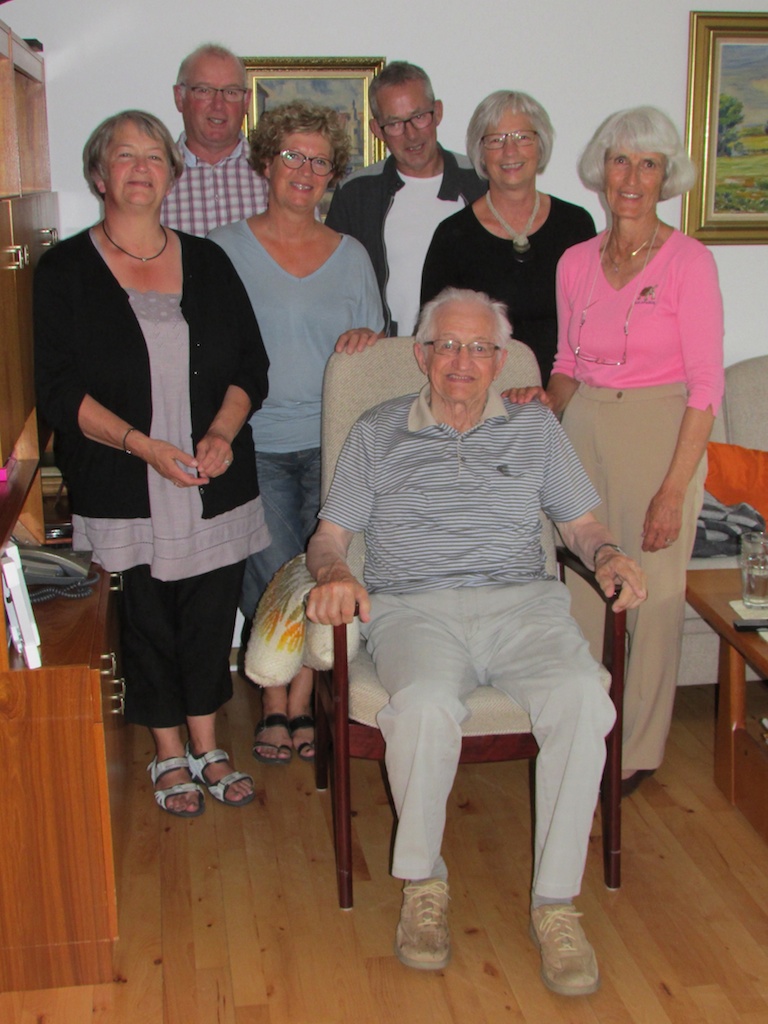 Poul Fisker, son of Ottine and Aage Fisker, seated with his family.
Back row from left: sons-in-law Jes Schmidt and Gert Reinhardt.
Front row from left: Three daughters Kirsten Meltesen, Birthe Schmidt, Aase Reinhardt, with Gail Michener.
Photograph by Dan Michener 16 June 2013.

From those visits and Poul Fisker's reminiscences of his family's assistance (transcribed and translated by daughter Åse), a picture emerges of the potential risks inherent in helping Allied combatants. Somehow, gossip had started about airmen from a crashed plane, possibly originating from people at a nearby farm where Mitchell and Bertie had stopped before arriving at the Fiskers' farm. When Poul Fisker and his sister Lis went to the village hall after eating dinner with Mitchell and Bertie, they were approached by their uncle Ejnar Fisker who had heard about men from a crash. When Poul returned home and told his father, Åge Fisker arranged for his wife Ottine and youngest son Børge to stay with relatives for a few days and he also visited his brother and sister-in-law Ejnar and Jenny Fisker to ask them to keep quiet. Meanwhile, Åge Fisker's brother-in-law Peder Christensen approached the neighbours who were suspected of spreading gossip, placed a gun on the table, and said he hoped never to need to use it. The gossiping stopped.
Mailor Ambrosiussen 27 September 1889-1955 Carpenter Mailor Ambrosiussen had been born in Minneapolis, USA, and spoke English. He was asked to come to the Fiskers' farm by his cousin Aage Fisker, and he was accompanied by English-speaking teacher and Resistance member Peder Nørby Christensen. Because the German occupiers sometimes attempted to uncover Resistance groups by planting agents posing as downed Allied airmen, Ambrosiussen and Nørby Christensen questioned Mitchell and Bertie and examined their clothing and belongings. In 1946 Ambrosiussen received Grade VI helper certificates from the British and American governments.