Australian Crew
A bomber crew consisted of men brought together by the vagaries of war and who otherwise might never have formed an acquaintance even if their paths had crossed in civilian life. Men in bomber training differed in age, education, employment, temperament, and interests. Many were so young that they had not yet even settled on a civilian career. The one trait all air crew shared was their willingness to volunteer for a dangerous job.
The RAF heavy bombers of World War II, namely the Stirling, Halifax, and Lancaster, normally had a crew of seven men. In Lancasters the seven crew trades were: pilot, navigator, bomb aimer, wireless operator, mid-upper gunner, rear gunner, and flight engineer. Whereas the flight engineer usually joined a bomber crew at a Heavy Conversion Unit (HCU), the other six men came together at an earlier stage in their training while at an Operational Training Unit (OTU).The RAF allowed crews to form of their own accord at OTU. With each new intake arriving at OTU from training in their particular trade, men sought out potential crewmates until they coalesced in a group of six. Many of the air crew at No 27 OTU at RAF Lichfield were from Commonwealth countries, especially Australia. Although crews could be of mixed nationalities, men often felt a strong affinity for others from their own country. Indeed, when Stoney Mitchell "crewed up", his fellow crewmen were all members of the Royal Australian Air Force (RAAF).
The Australian crew formed at #27 OTU at RAF Lichfield in May 1944:
Name
Enlisted
RAAF
Service #
Pre-war Occupation
and Residence
Trade
Rank & Age at Crewing Up in May 44
Gaven W.
  Henry
10-Oct-42
 428847
bank
clerk
 Walcha
NSW
pilot
Flight Sergeant
23 yr 3 mo
H. A. Stoney
  Mitchell
24-Apr-43
 433608
solicitor
 Moree
NSW
navigator
Pilot Officer
33 yr 3 mo
Mervyn H.
  Bertie
12-Apr-43
 433499
 accountant's
clerk
 Orange
NSW
bomb aimer
Sergeant
23 yr 2 mo
Keith C.
  McGinn
26-Feb-43
 435018
student
 Mackay
QLD
wireless operator
Flight Sergeant
19 yr 3 mo
Harvey J.
  Porter
08-May-43
 433742
 government
clerk
 Five Dock
NSW
mid-upper gunner
Sergeant
19 yr 2 mo
John W.
  Grice
26-Mar-43
 435168
student
 Charleville
NSW
rear gunner
Sergeant
19 yr 3 mo
At 33 years of age, Stoney Mitchell was by far the oldest member of the crew that formed in May 1944.  The next oldest, Gaven Henry and Mervyn Bertie, were both born in 1921 and thus 10 years younger than Mitchell.  The remaining three, Keith McGinn, Harvey Porter, and Jack Grice, had all recently celebrated their 19th birthdays.
At "crewing up", Mitchell as a Pilot Officer was the only commissioned crew member. As was the convention in the RAF, pilot Gaven Henry was the captain of the crew regardless of the fact that Mitchell was much older and held a higher rank.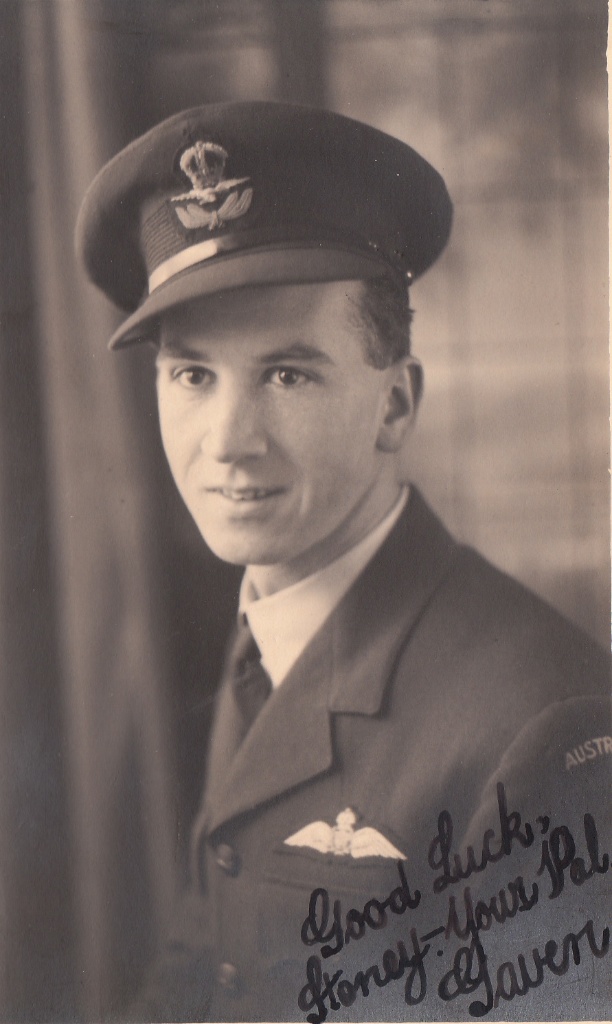 Gaven W. Henry, RAAF Pilot.
Original photograph in Gail Michener's private collection.
After further training at No 1656 Heavy Conversion Unit (HCU) at RAF Lindholme in late September/early October 1944, where the six Australians were joined by British Flight Engineer Ken Foster, the 7-man crew moved on to No 1 Lancaster Finishing School (LFS) at RAF Hemswell in mid-October, finally joining 103 Squadron at RAF Elsham Wolds in late October.   After two training flights in early November 1944, the six Australians flew thirteen operations together from 16 November 1944 to 28 January 1945 (see 13 Ops).  Ken Foster, who turned 21 a few weeks after joining the crew at HCU, flew eleven of these operations.  Foster missed two of the January sorties due to tonsillitis and another RAF flight engineer, A. Dowie, joined the six Australians on those two operations.
Gaven Henry received his commission as Pilot Officer on 30 July 1944, Stoney Mitchell was promoted to Flying Officer on 25 August 1944, and Merv Bertie received his commission as Pilot Officer on 9 January 1945.
In late January Gaven Henry broke his wrist while cranking Stoney Mitchell's car to get it started on a cold night.  While waiting for his wrist to heal, Henry was posted to 13 Base, also at Elsham Wolds.  Coincidently, he was promoted to Flying Officer on 30 January 1945.  Sadly, before Gaven Henry's wrist had healed enough for him to return to operations, the three youngest Australian crewmen were killed in separate operational accidents over Europe on 2, 8, and 12 March 1945 (see In Memoriam). Thus an unlucky civilian accident irreparably broke up the Australian crew.
Fates of the Australian crew in 103 Squadron:
Name
Trade
RAAF
Service Number
Rank as of
March 1945
Fate
Death
War Grave
Gaven
 Henry
pilot
428847
Flying Officer
Returned to Australia
04 Nov 1945
21 Sep 2011
 
Stoney
 Mitchell
navigator
433608
Flying Officer
Returned to Australia
15 Apr 1946
08 Aug 1984
 
Merv
 Bertie
bomb
aimer
433499
Pilot Officer
Returned to Australia
02 Apr 1946
23 Nov 1987
 
Keith
 McGinn
wireless
operator
435018
Flight Sergeant
Killed in action
bombing Dessau
08 Mar 1945
 Reichswald Forest War
Cemetery, Germany
Harvey
 Porter
mid-upper
gunner
433742
Flight Sergeant
Killed in action
minelaying Kattegat
12 Mar 1945
 Tarm Isolated Grave, Denmark
John
 Grice
rear
gunner
435168
Flight Sergeant
Killed in action
bombing Mannheim
02 Mar 1945
 Dürnbach War Cemetery,
Germany
Ken Foster, the seventh crew member and the only RAF airman in Gaven Henry's otherwise Australian crew, survived the war and died 4 April 1996 in Deal, England.
See In Memoriam for further details of aircrew killed in action.
See Englændergraven, the Danish name for the Tarm Isolated Grave, for details of the burial of Porter and Morris.
See Crew Positions for a diagram showing each crew man's working location within a Lancaster.