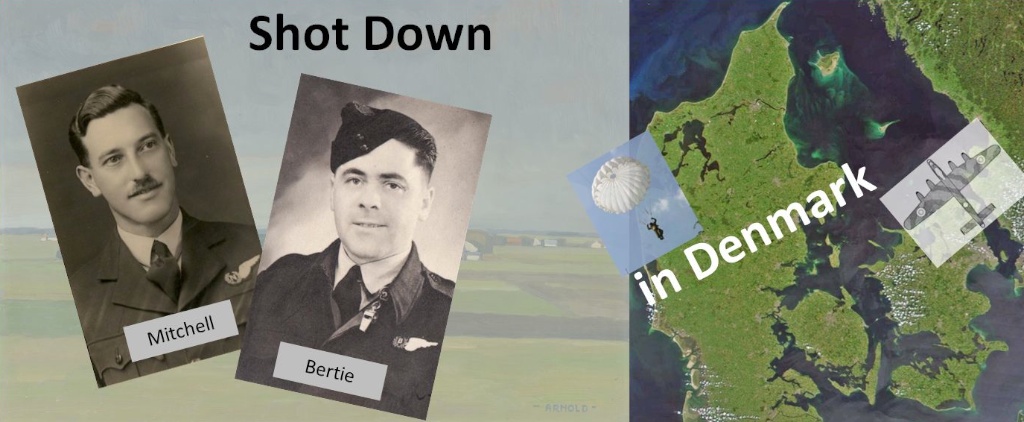 See below for Announcements

About this website
Despite the terrifying experience of parachuting out of a flaming Lancaster bomber over western Denmark in the darkness of a mid-March night in 1945, RAAF Navigator Flying Officer Stoney Mitchell and RAAF Bomb Aimer Pilot Officer Mervyn Bertie were among the lucky ones. They survived and evaded to Sweden. About 47,268 Bomber Command aircrew died in action or as prisoners of war and a further 9,838 survived as prisoners of war. Another 8,403 were wounded and 8,232 died in accidents or in ground action. Thus, of the 125,000 aircrew who trained and served in Bomber Command during World War II, nearly 60% were casualties.
This website documents the war-time experiences of my father Stoney Mitchell and fellow crewman Merv Bertie, most especially their 24-day evasion across Denmark in 1945. The site is dedicated to the many courageous and patriotic Danish helpers, both civilians and Resistance members, who risked their own lives to protect and assist the two Australians during their evasion across Denmark. The website also recognizes and remembers all the crew members with whom my father flew, especially those who did not survive the war.
Gail R. Michener
daughter of Stoney Mitchell
Alberta, Canada
website created June 2014; last updated January 2020.
Memorial Event
2020
On Thursday 12 March 2020, a 75th anniversary event commemorating the attack and crash of Lancaster ME449, with the loss of two lives and evasion of five aircrew, will be held in Tarm, western Jutland, Denmark.  The event will begin with a meet-and-greet reception at Tarm Kirkehuset at 0945 h, followed at 1100 h by a ceremony and wreath laying at Englændegraven.  Everyone is welcome to attend. Organizing Committee: Kirsten Kolby (Tarm, DK), Gail Michener (Picture Butte, CA),  Per Bonde (Tarm, DK), Søren Flensted (Billund, DK).
See Englændergraven for the history of the burial site of gunners Donald Morris and Harvey Porter.
See Evasion Story for details of the evasion of Navigator Stoney Mitchell and Bomb Aimer Mervyn Bertie.
Memorial Event
2015
On Thursday 12 March 2015, a memorial and unveiling event was held at Englændergraven, Tarm, western Jutland to mark the 70th anniversary of the shooting down of Lancaster ME449.  The Ceremony at Englændergraven (corner of Ådumvej and Østermarksvej), which began at 1300 h, included unveiling of a memorial plaque, hymns and songs, speeches and wreath laying.  Dignitaries and guests included representatives of the British and Australian governments, Commonwealth War Graves Commission, Danish Resistance, Ringkøbing-Skjern Kommune, Tarm Kirke, and family members of the Allied airmen who were aboard the Lancaster bomber on 12 March 1945.  The Ceremony at the grave site was followed by a Reception at Bechs Hotel in Tarm at which speeches were given by eye witnesses from 1945, family members of the air crew, and Danish historians.
70th Anniversary Event for a collage of the crew members and the program of events held in Tarm on 12 March 2015
70th Ceremony for details of the graveside ceremony and images of the event and memorial plaque
70th Speeches for the text of speeches given by dignitaries, family members of the crew, and eye witnesses
news item on TV MidtVest to view highlights of the ceremony at Englændergraven
12 March 1945 crew for the composition of the crew on the minelaying operation by Lancaster ME449
Englændergraven for the history of the burial site of gunners Donald Morris and Harvey Porter
Additional images from the 70th Anniversary Event can be viewed at the end of Søren Flensted's item on the Airwar over Denmark site and Anders Straarup's item on the Allied Airmen site.
In Memoriam
Dorthea Madsen (nee Kristensen) died 2 July 2016 at the age of 92 years.  On her 21st birthday, 13 March 1945, Dorthea Kristensen located two Allied airmen, Stoney Mitchell and Mervyn Bertie, walking towards the town of Tarm in western Jutland.  She led them to her parent's farm where they were fed and protected.  For further details see Civilian Helpers and 70th Ceremony Speeches.
Group Captain Stan Slater (DSO OBE DFC & Bar), pilot of Lancaster ME449 on 12 March 1945, died on 29 August 2014 at the age of 92 years.  Read Slater's obituary in The Telegraph.
Hints on navigating the Shot Down in Denmark web site:
on computers and pads:
- each of the topics in the Main Menu navigation bar (e.g., Eye Witnesses & Helpers) opens an information page for that topic by clicking directly on the pointing hand icon
- hovering over any topic in the Main Menu bar brings down a sub-menu screen with a clickable list for selecting sub-topics within that topic; move the pointing hand icon to the submenu topic of interest
- clicking Sitemap in the Top Menu bar shows the content of the entire web site in the form of clickable links organized hierarchically
on smart phones:
- clicking the three-line navicon opens the site map with the content of the entire web site in the form of clickable links